Hello everyone! As of recently, the Allure beauty awards were announced for 2021.
If you aren't aware, the Allure beauty awards are several lists of the top beauty products of the year, but not limited to beauty just released in the past year. There's categories like skin, body, sensitive skin, eyes and drugstore picks to name a few. It covers from skincare to haircare and everything in between.
I'd like to share some of my thoughts on which products are worth it, and which seem out of place on these lists.
E.L.F Big Mood Mascara
The first product I wanted to share was off the Steals/Drugstore list from E.L.F. This is there newest mascara that came out pretty recently to contrast with their Lash It Loud mascara. While the Lash It Loud mascara is more lengthening and separating, this mascara is all about volume and thickness.
I've heard great things about this mascara! It's long wearing, comes in two dark black shades and has an hourglass shaped wand to apply with. Although it's more dramatic than their previous mascara, it doesn't clump easily and let's you build layers if needed. But honestly, it looks great with one coat!
I highly recommend this mascara, and as a bonus, it's only $7!
Related Post: Top 7 Best Elf Cosmetics Products
Maybelline Lifter Gloss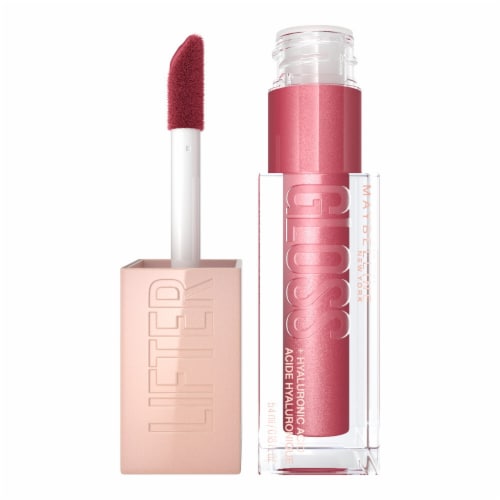 Another makeup item from the drugstore is that gloss from Maybelline! Glosses can be pretty similar, so the fact that this one has hyaluronic acid makes it stand out. It comes in several colors, and I'd describe them as semi-pigmented. They're definitely not clear, but also aren't fully opaque either- a perfect wash of light color.
I featured this in one my monthly releases post as I adored the packaging! It's simple, but I love Maybelline packaging and the same goes with their Lifter Gloss. Since it has hyaluronic acid, it makes a great option in the cooler months for a little extra hydration for the lips. It's also affordable, as it's on the drugstore list and a great option for those who don't want to spend a lot on a gloss.
Related Post: May Monthly Favorites (Mentioned this gloss!)
Dyson Airwrap
Now we're going on the opposite spectrum with this all-in-one hair tool. Remember seeing this guy everywhere? It's now a third time winner of Allure, and it's received rave reviews.
It can replace your blow-dryer, curling iron, and straightener as well as several other hair styling tools as it has a replaceable head. No matter what hair you need, they'll likely have a part available with the airwrap. Also, it avoids using extreme heat with it's airwrap technology, creating unique styles with this tool alone. You won't have to worry about heat damage, but it still keep your curls in place. Sounds amazing, right?
So what's the kicker? It costs $550. Yeah, that's a hefty price tag for the most of us, but every review out there loves this hair styling tool. If you're willing to splurge, it's worth it!
Rare Beauty Stay Vulnerable Melting Blush
This beautiful blush is from the brand Rare Beauty, created by Selena Gomez. Her brand has recently launched and she's up to date with the current trends such as this cream blush. Her blush was one of the first to be released, and come in a couple of beautiful rosy tones.
Besides the amazing formula, it comes in this beautiful, almost egg-shaped packaging with light pink and golden details. There's something so pretty about this cream blush, and then combined with a just as gorgeous packaging, it creates this amazing product. I especially recommend this for anyone who doesn't wear foundation and wants a natural, glowy finish. I can see why it made the best of cream blush category- a very hard to beat category considering how hard it blew up this year! Plus, it doesn't break the bank at a solid $21.
Maybelline New York Lash Sensational Sky High Mascara
Here's a mascara I saw coming! This mascara was all over for the longest time, especially because it's affordable and it's available at the drugstore store. I've tried this one and find it amazing. If you want that perfect balance of lengthen, separation, volume and thickness, it's smack dab in the middle. It's thickening, but not enough to be clumping and lengthening enough to provide a great lift. Truely, a good mixture of a mascara.
Of course, you can find a better volume mascara or lengthening mascara, but if you want a little bit of everything, then this is great. It also has a waterproof version as well. You'll definitely need a good makeup remover if you get the waterproof version so keep that in mind! It sticks to your lashes like glue.
Related Post: Review- Maybelline Snapscara
Fenty Beauty Gloss Bomb Cream
My pick from the lips category has to be Fenty's gloss bomb. It's a popular choice for a good reason: it's a lovely gloss that comes in multiple shades and unlike most brands, this gloss line comes in contrasting, very different and unique shades.
It's also more pigmented than the Maybelline gloss, and provides a punch of color, especially the darker shades. There's also usually mini's of this formula, so if you want to try multiple colors, you can do that too for a cheaper price. Of course, the packaging is amazing too! It may look pretty typical, but it's actually quite stunning to look at. I'd consider this an option if you want a more pigmented gloss!
Disappointing Categories
Although I agree with some of their choices, there's definitely a couple that either left me disappointed or confused.
For the eyeshadow category, I could imagine a ton of winners. Natasha Denona's palettes, one of Colourpop's new collabs, maybe even Huda Beauty's new palette. Colourpop's Fade Into Hue won the eyeshadow palette category. Don't get me wrong, it's a pretty palette, but it was actually perceived not too greatly by the community. The rainbow colors didn't go too well together and there was a ton of pressed glitter- a formula people stray away from because of it's possible dangers to your eyes. Definitely a strange choice.
The second eyeshadow palette winner was from a brand I've never heard of, and the palette that won is a pretty standard brown-toned palette. I'm extra confused about this. I've never heard of the brand, or anyone discussing this palette before. I'm super disappointed because they had so many great options to chose from!
I'd consider myself pretty well-versed in makeup. I buy mostly drugstore, but I follow beauty news as well as several youtubers with different makeup tastes, but there's several brands I haven't heard of: Joey Healy, Blinc, Meloway, Kulfi, just to name a few from the eyes category alone! Please chime in if these brands are unknown to you as well.
Related Post: Newest Monthly Releases
Conclusion
So here's some of favorites from the Allure Best of Beauty 2021 lists! What do you think? What are your favorites?
Also, let me know if any categories disappointed you. Were you expecting a certain product or brand and they never showed up? I've heard a fair share of criticizing over the years, this year being no exception so I'm curious to hear what you think.
If you've enjoyed this, I might do a hair/skincare version of this as well since I didn't cover them in the list. Again, let me know!